Accommodations, lodging in Fouchy at the heart of Alsace in the "vallée de Villé"
Your stay in Alsace
Alsace is a land of history and traditions. Castles, wine roads, varied landscapes, gastronomy, picturesque villages, hiking. The choice is yours.
Your stay in Fouchy
Fouchy, a village in the "vallée de Villé" , is located in the centre of Alsace between Strasbourg and Colmar.
Christmas in alsace
From the end of November onwards, Alsace is decked out in lights. Its famous Christmas markets, its concerts, its parties, its sweets guide you to Christmas.
The various faces of Alsace
Alsace, a land of history and tradition, is full of activities and places of interest. You will discover a region with a great variety of landscapes from which it results a very varied architecture and agriculture. For those who are close by : The wine route (10mn from Fouchy) stretches from the North to the South of Alsace. It presents a string of magnificent wine-producing villages with their colourful and flowery half-timbered houses. The Vosges hillsides present medium mountain villages with pink sandstone farms (like ours). The Vosges crests overhang the valleys in "alpine" landscapes where cows, hikers and farm inns enliven the landscape. The Ried and its magnificent plain villages snaked by the dead arms of the Rhine and its tributaries.
Alsace pittoresque et d'histoire
Alsace is a land of passage and will allow you to go back in time through its history. Its many castles offer a magnificent view over the plain and will be unforgettable objectives for your walk. The most famous of them – the Haut-Koenigsbourg castle – will certainly be part of your visit programme. The numerous fortified villages along the route are a testimony to this medieval past and are the pearls of the Alsatian vineyards. Half-timbered houses, colourful facades and flowery windows are the perfect setting for enjoying a beer or Alsatian wine on the terrace. To understand Alsace is also to immerse oneself in the meanders of the destiny of a frontier region through its many places of memory.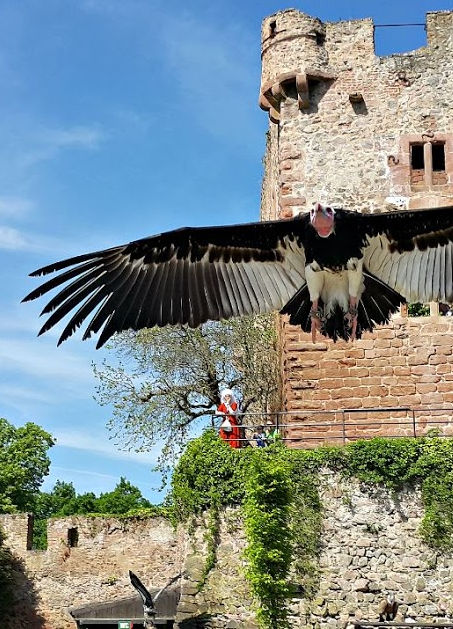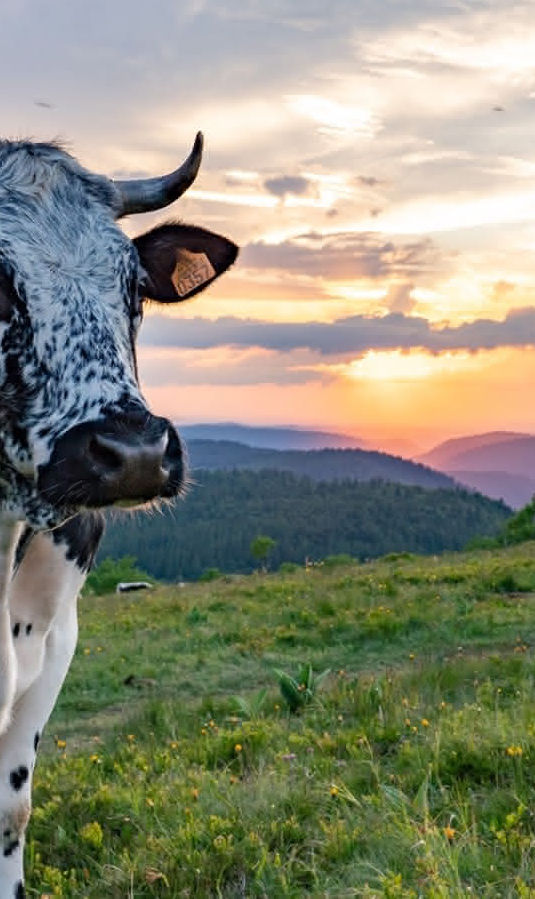 Alsace nature
Forest, vineyards, plain, plateau, lake, waterfalls, rock, river… the multifaceted Alsace will be a varied playground for nature lovers and escapists. Maps, topo as well as my good plans are waiting for you in our logging.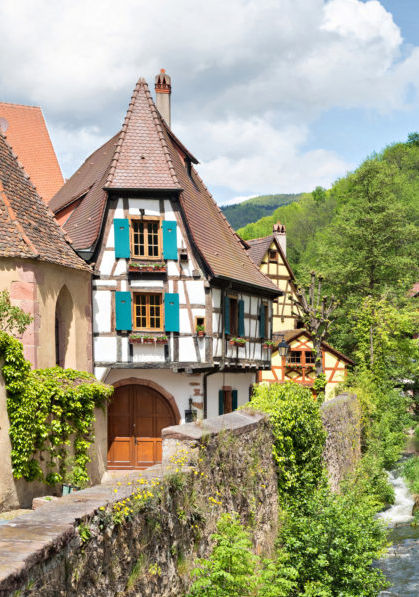 Alsace vigneronne
The mythical wine route winds its way through Alsace for almost 170 km. We are located in the middle of it. You will discover a succession of picturesque villages, exceptional landscapes, famous wine-producing towns and passionate winegrowers.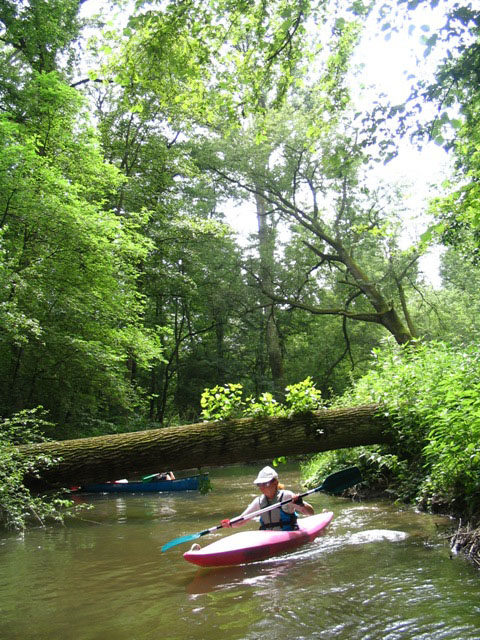 Alsace Aquatic
A fun and refreshing way to discover Alsace can be by canoe on the affluents of the Rhine. For swimming, you will find lakes and pools all over Alsace (5mn from your logging).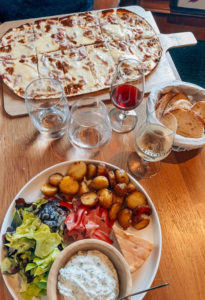 Alsace gastronomic
You won't discover Alsace if you don't taste its specialities. Each micro-region has its own specialities, which are as tasty as their names are difficult to pronounce for the "insiders".
Le Baeckeoffe.
La Flammekueche.
Les Roïgabrageldi
La Choucroute.
les Bredele
Le Bretzel.
Les Spätzle
les Fleischsnaka
La Mannala.
Le Kougelhopf.
Le Pain d'épice.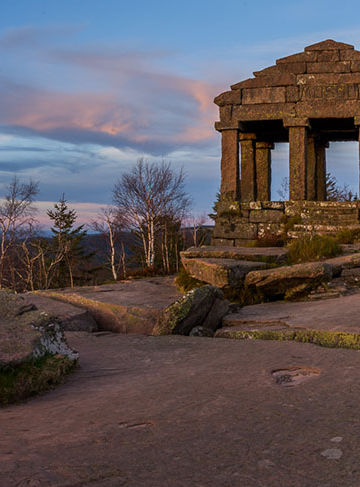 walks and hikes on your doorstep
Your gîte is located in the forest in the heart of the hiking trails. Castle, viewpoint, forest, rock, waterfalls, there is for all tastes and all levels. The signposting of the famous Vosges club will guide you to discover our region. Maps, guides, topo are waiting for you at the gîte as well as my favourites.
Your holiday in "la vallée de Villé"
Our lodgings are located in the earth of Alsace between Strasbourg and Colmar .
Fouchy, little village (700 inhab.) be a part of the 18 municipalities of the valley of Villé . You stay at 450 m of height in a landscape of low mountain range. 900 metres of forest tracks, cleared of snow in winter, will lead you to your gite and tranquillity.
The val de Villé is a land of legends and history. The quiet nature will appeal to you thanks to the richness of its wild life .Trades of the past are numerous in the valley, as well as the kirsch distilleries or mountain agriculture .
You will discover by the visit of the museum of the Val de Villé in Albé, the jobs of yesterday and of formerly witch make wealth of our region.
You stay in a valley where the sport and outdoor activities have a rightful place . The wealth and the variety of its landscapes offer grounds varied for activities for families or for the most sports.
For your convenience during your stay :
An excellent bakery is located in the village. In Villé (7 mn), you will find all the traditional shops (bank, pharmacy, petrol station, post office…) and supermarkets. A market is held there every Wednesday morning. The tourist office in Villé will offer you activities, games and ideas for outings.
I will be happy to advise you and give you my "good tips".
Cycle tourism on your doorstep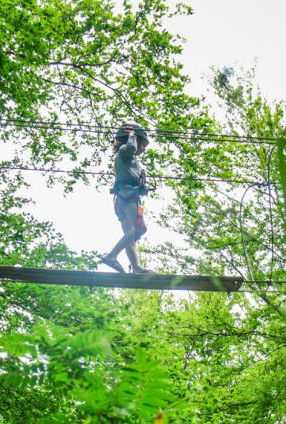 Climbing at 15mn
You will be able to fly over the valley in a zip line at the Alsace Adventure Park.
Rocks and cliffs await the climbers with the reward of beautiful views .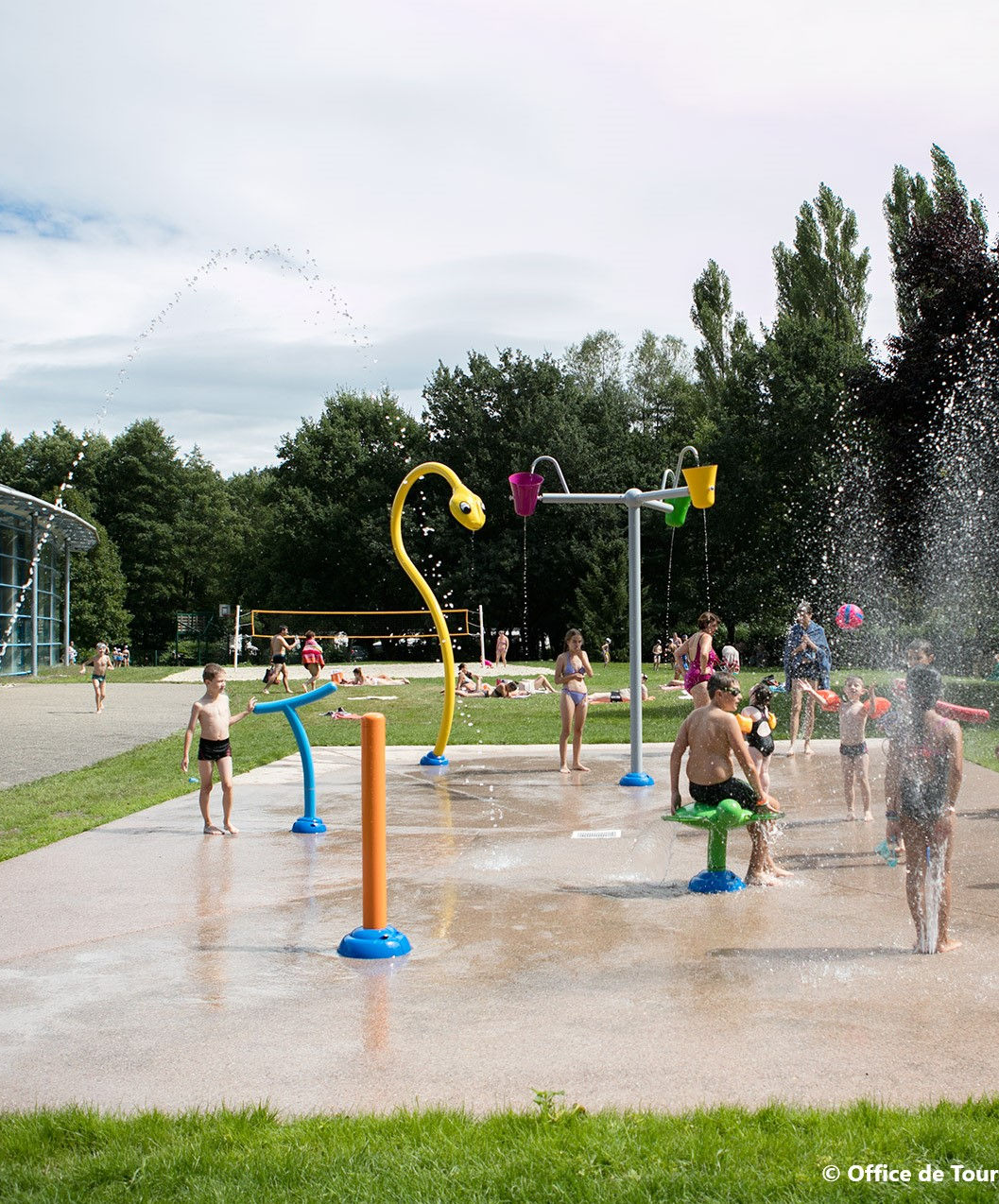 Swimming pool at 5mn
5 minutes from our lodging, Aquavallée is the place to be for relaxation and water sports.
This complex has a beautiful outdoor pool in a large wooded park facing the hills. 3 indoor pools with SPA, whirlpool, slide and everything else. Swimming, playing, moving around, feeling good, everything is there.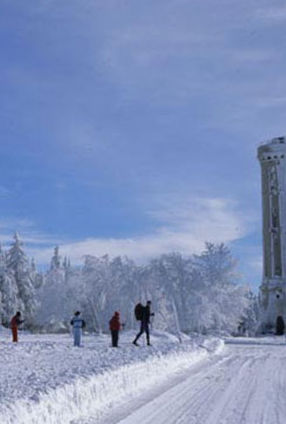 In Winter
If the snow is there, you can sled or cross-country ski from your lodging. If not, 20 minutes from Fouchy, the Champ du Feu ski resort (1000m altitude ) is an ideal family playground to enjoy the joys of skiing.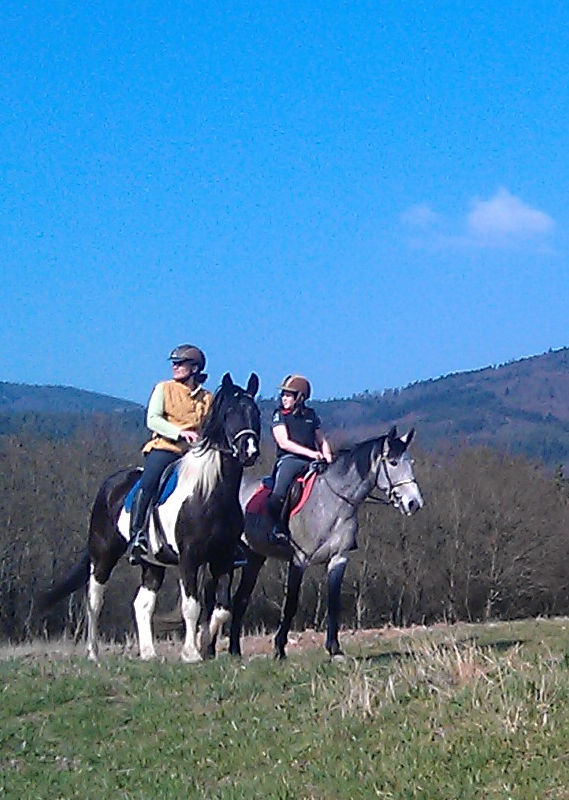 Horse Riding
On place, free walks with our donkeys and ponies. Children will discover their first equestrian sensation and parents will (re)discover the pleasures of trekking. For the older ones, the equestrian centre of the valley will offer you lessons and tours.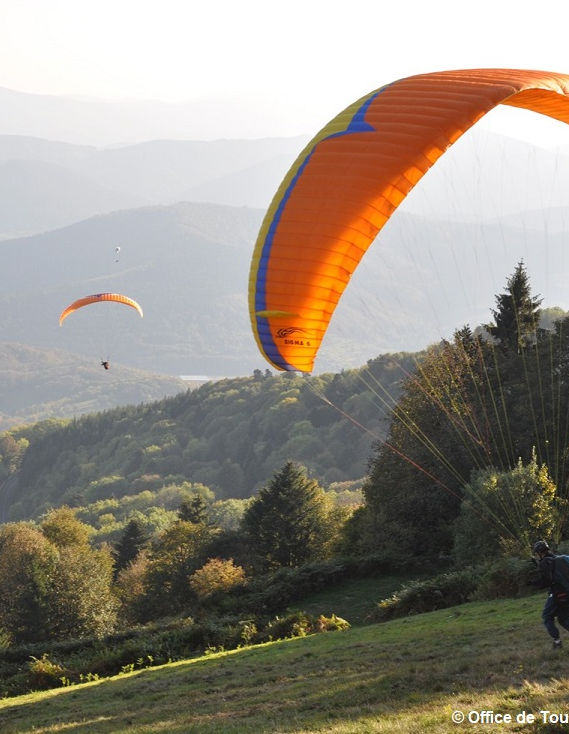 Paragliding
Two take-off sites. You can discover and visit the valley from the sky with the association Grand Vol .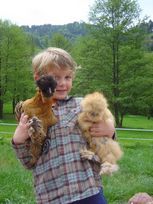 Farm visits
Dive into our valley's and Alsace's terroir by tasting local products. The valley's farmers, distillers and winemakers open their doors to you.
By visiting our beautiful region at this time of year, you will be entering a fabulous universe rendered sublime by the magic of Christmas . This journey, flavoured by spices and gourmet delights, is one where carols, stories and legends will delicately carry you away to the Christmas land you have dreamed of… Decorated carefully , as well inside as outside, our gite and guest houses are not failing in this tradition. Ideally situated (central Alsace), our gite and guest houses shall allow you to visit easily the North (towards Strasbourg) and the South (towards Colmar) of Alsace. Live the special and beautiful Advent time, the markets and the Christmas Eves in Alsace. Since the end of November and until the beginning of January, discover the Christmas decorations and lights of a whole and unique region.
Looking forward to welcoming you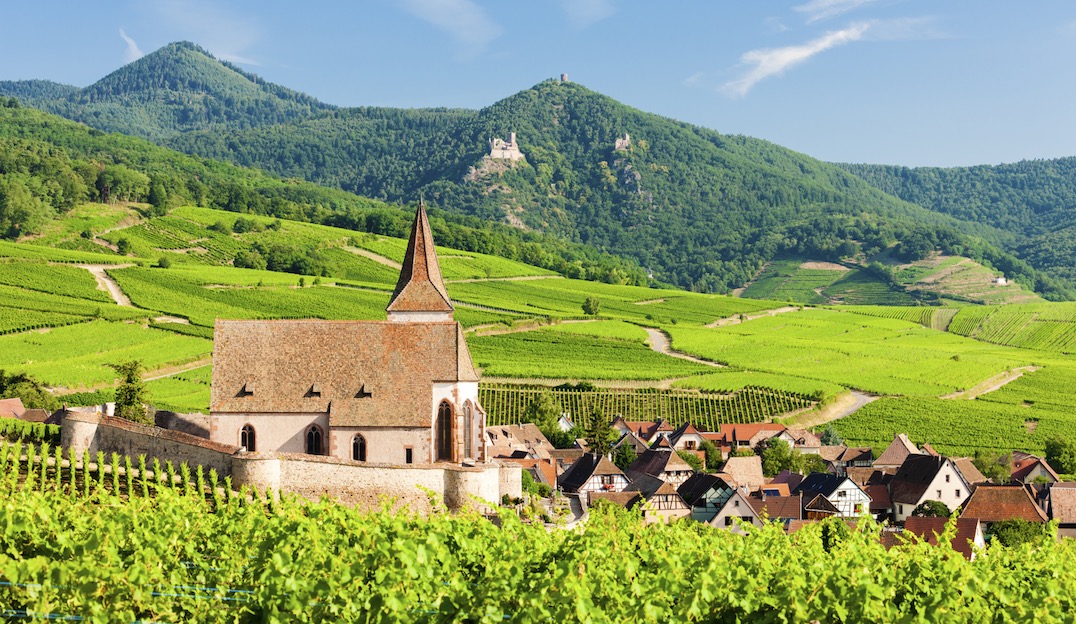 Lodging in Alsace with the charm of yesteryear and today's comfort